North Perth Arts Council
NEWS NEWS NEWS
Scroll down to view all the events and information posted.
Check back often as this listing changes frequently.
---
We are on YouTube
subscribe to our channel
North Perth Arts Council
---
NPACC Member Event: Pam Schildroth
North Perth Arts member Pam Schildroth, earned several awards at the recent Owls Nest Carving Competition hosted by the Grand Valley Woodcarvers Club. The three day event was held at Rim Park Complex in Waterloo. Pam garnered a 1st and an honourable mention in the Novice Relief Carving class, a 1st and 3rd in the Novice Caricature carving class, and a 2nd in the wood burning class. Congratulations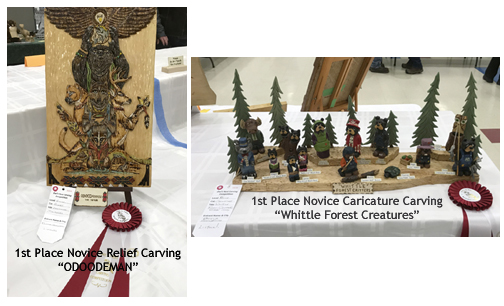 ---
NPACC Member Event: Pete Daize
This is an invitation to all my neighbours in the town of Listowel and friends on Facebook to come out to the Homer Watson House and Gallery in Kitchener for the Kitchener Waterloo Society of Artists exhibition titled "Contrasts." One of my compositions titled "Spirit of the Rainforest" has been selected to appear in this juried exhibition which runs from March 17th to April 21st. The opening ceremony will take place on Sunday March 24th from 2:00 to 4:00 P.M.. There will also be an artist talk on Sunday April 7 from 1:00 to 3:00 P.M.. Admission is $5.00. Come out and support artists in the K/W region.
Thanks on behalf of my fellow visual artists and myself. Pete Daize
---
March: Artist of the Month Laura Tecsa
Be sure to drop by and view the selection of artworks by Laura Tecsa at the North Perth Public Library, Listowel branch. The blasts of color are sure to shake off the winter doldrums. The display is available for viewing during regular library hours, and feel free to leave a comment.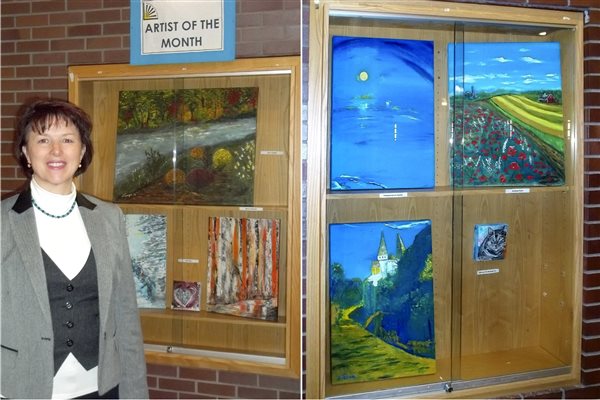 To help NPACC promote arts and culture events we need you to LIKE and follow North Perth Arts & Culture Council on facebook.
---
ARTIST of the MONTH:
The North Perth Public Library, Listowel Branch in partnership with the North Perth Arts and Culture Council, features the works of a visual artist in the library lobby showcases, during regular opening hours.
North Perth artists will be displaying paintings in all media, photography, drawing, sculpture, mixed media and fabric art.
Take time to view each of the monthly displays. Learn more about the local artistic community, and see examples of their work ... many are for sale. Contact the artist directly to make a purchase, or commission an artwork.
Month: Artist:
2019
March Laura Tecsa
April Heather MacEwen
May Rosemary Galloway
June MVCC Camera Club Group Showcase
July Eden James
August Sally Coxon
September NPACC Group Member Show
October Rebecca Wilson
November TBA
December Annual Photography Contest

Month: Artist:
2020

January Blair Immink

February TBA

March TBA

More information and contact links are available on the NPACC web site in the Talent Directory section.
www.NorthPerthArts.ca North Perth Public Library
---
Become a Facebook Fan of North Perth Arts & Culture Council. Join our Fan Base
---

Themes announced for the
10th Annual Photography Contest 2019

Dust off your camera. Fine tune your creative photography skills. The North Perth Arts Council and Friends of the North Perth Public Library have partnered again for the 10th Annual Amateur Photography Contest.
This year's themes:
Student up to age 12: Any Olde Thing
Youth 13 to 19: Any Olde Thing
Adult 20+: BEST of your recent best
Open: (all ages) Portrait of a single subject

These are the categories for students and adults to enter. Cash prizes for 1st, 2nd and 3rd place entries.
Local photographers of all ages and abilities are encouraged to capture images that showcase their talent, and highlight the big picture, or the smaller details. Show us, what you see.
Contest entries are to be dropped off Thursday November 14th, between 6pm and 7pm at the Listowel Public Library. This gives interested photographers plenty of time during the spring, summer and early fall months to capture their images and prepare their entries. The entries will be displayed in the Listowel branch of the North Perth Public Library during December 2019.
Entry forms, and guidelines-rules, will be available to download from the arts council web site, NorthPerthArts.com
The challenge has been issued. Let your creativity and talent go wild.
Download Guidelines PDF Download Entry Form PDF
---
Call For Artists: expanded art display
The Artist of the Month program at the library is building with lots of good response from the public. They like it and so do we.The North Perth Library is also pleased with the success of the ongoing monthly displays. The program is being extended and so we are asking for artists in North Perth and surroundings to commit to having their work on display.
For booking information and availabilities, contact photoman@porchlight.ca
---
North Perth Arts Council supports Community of Character North Perth

March's trait is Optimism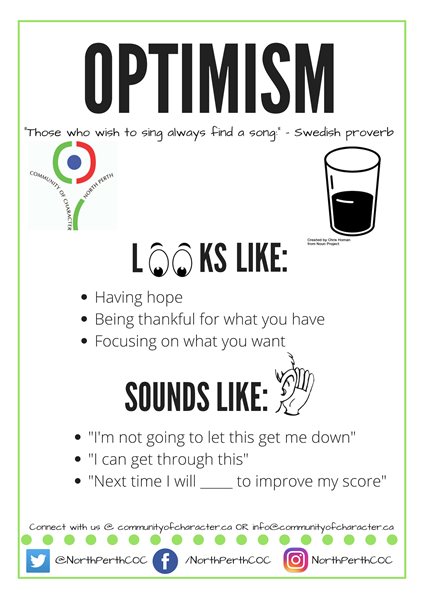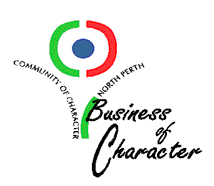 The North Perth Arts and Culture Council is a participating member of
Community of Character North Perth.

For more information about
Community of Character North Perth
click here
---
---
North Perth Arts & Culture Council part of Perth Arts Connect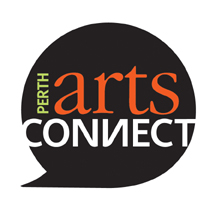 Discover more about
arts, culture and heritage
in Perth County, Stratford and St. Mary's
Download PAC Membership Information brochure (PDF)
ARTS Enrichment
---
NPACC members offer many
opportunities to learn basic skills
or advance your talents in visual arts
or music.
---


3rd FRIDAY PAINT GROUP:
Come and join a group of people who like art and are interested in learning or improving their painting skills. We will meet monthly to work on individual projects of your choice. Please bring your own supplies. Registration is required to book tables/room.
For those who paint at home individually or are interested in painting but don't know where to begin, this group is a great way to experience the joy of painting. Sometimes it's nice to get together with like-minded people. We are open to sharing ideas and to provide support while having some social time out. All ages are welcome!
The group meets every 3rd Friday at the Scrapbook Shop in Listowel. It is $10.00 per person. Time: 6:30 pm - 8:30pm.

I will be there to support you on this journey, follow my page @paintingwithmegan for more events. Megan Myke
---
Love to sing? Are you ready to go beyond the shower?
Meet Joyful Voices, a new community choir that begins this fall in North Perth.
We're about having fun, and celebrating great music.
If you can read music, we want you! If you can carry a tune and keep in key,
we want you! And we're not even that particular on age – as long as you're
well behaved, and want in on something joyful and musical, we're ready for you!

Auditions are required – it's only fair to hear your voice and make sure you can join in part-based singing, since we hope to sound great and make an impact.
Contact us via our website – www.joyfulvoices.ca – to learn more about audition times and our big picture.
---
Professional Drawing classes (Pencil shading, water colour, acrylic, analytical drawing and portrait) -in Listowel. Evening and weekend instruction available. Students ages 4 and up. Materials supplied. Bring a photo of subject you'd like to draw. If you have any questions, or to register please contact Madhumita Jaipuria 519 418 4551.
---
Do you want to learn more about coloured oil pencil art? NPACC member Sally Coxon is offering lessons for all interest levels in drawing, mixed media and her specialty, coloured pencil. From basic drawing and colouring techniques to more advanced challenges in composition. For more information contact Sally at 226-767-8245
---
Would you like to learn Musicianship for Adults, including note reading, ear training, sight singing, and basic theory? NPACC member Michelle Kyle is looking to organize a group or class in North Perth to expand their music knowledge. Michelle is also interested in forming a chamber ensemble in the area. Does this strike a chord with you? Check out her qualifications at michellekyle.com. For more details you can contact her at michellekyle@gmail.com
---
Are you interested in developing your interest and talents in watercolour, drawing, acrylic, mixed media small cards, fabric dying or sewing? Morning and afternoon classes are offered by NPACC member Donna Hirtle. For more information about her classes, contact Donna at 519 638 0888.
---
Are you looking for other opportunities not currently listed here. Send your interest to info@NorthPerthArts.ca
---
VISUAL ARTISTS
CLASSIFICATIONS: (OAC/NPACC)
Established Artists
This category is for established artists and includes artists with an extensive body of work and with a history of national and international exhibitions and/or those who have achieved a wide degree of recognition. You must have at least 15 years of professional practice in order to apply to this category.
Mid-Career Artists
This category is for artists in mid-career and includes artists past the early stages of their professional career who have produced a reasonable body of work and may have a fair degree of public exposure. You must have at least 8 years of professional practice to apply to this category.
Emerging Artists
This category is for emerging artists and is reserved for artists in the early years of their professional career who may have a small exhibition record. You must have at least 3 years of professional practice to apply to this category.
Hobby / Amateur Artists
This category is for those who pursue any number of genres of artistic expression for personal interest and gratification. Attending and participating in arts instruction classes, workshops and community shows is an important component in their artistic portfolio.
Student Artists
This category is for students enrolled in secondary school art courses, or post secondary students enrolled in an art program at the college or university level.

Become a Member of North Perth Arts Council today.
Apply OnLine use Contact NP Arts menu option
Join Now